I was playing golf and now my wrist hurts.
You just penciled a triple on a par 5 and now you are walking up to the tee box of a par 3. Unlike the last hole, you now have a chance for par (hopefully better) with a good first shot into the green. After grabbing your 7 iron and setting up over the golf ball, you tell yourself to make the most of the situation. You start your swing and hit the golf ball only to see a softball of ground flying across your follow-through. I've been there! You say mulligan and your friends laugh, but your wrist hurts!
What happened? Hopefully, your wrist pain resolves quickly. If the pain persists, there are a multitude of causes for the pain, which range from a mild sprain to more severe injuries such as a fracture. Patients sometimes independently trial over-the-counter medications and splints to help with symptoms. In more severe cases, patients go to the ER where they may be found to have a fracture (broken bone). So I Have a Fracture Blog Article. Broken Hand Informative Article. Broken Wrist Informative Article.
In cases of fracture, the hook of the hamate may be broken. In chronic breaks of the hook of the hamate, pressure may be directed to adjacent tendons and/or the ulnar nerve. This will lead to difficulty with movement and/or numbness/tingling of the small and ring fingers. After evaluation by your treating physician, an excision (removal) of the hook of the hamate may be recommended to alleviate symptoms.
Occasionally, individuals may sprain the scapholunate ligament. With mild injuries, a course of splinting, over-the-counter medication, and/or supervised therapeutic exercises may assist with symptoms. When the scapholunate ligament is completely ruptured acutely, surgery is typically performed to repair the ligament. MRI may be utilized to help characterize your injury.
Scapholunate Ligament Injury Article. Sometimes, pain may persist along the ulnar aspect of the wrist (side opposite of the thumb). In this area, the Triangular Fibrocartilage Complex (TFCC) may be injured. The TFCC is a complex collection of ligaments that stabilizes the ulnar aspect of the wrist. Nonoperative treatment options include wrist splints, TFCC braces with straps, and occasionally a cortisone injection. In circumstances of acute TFCC instability, surgical treatment for avulsion injuries includes repair. In patients with instability and chronic TFCC tear, ligament reconstructive techniques are available. TFCC Injuries Article.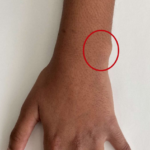 Picture 1: Ulnar aspect of the wrist circled.
In some patients, the injury may inflame the extensor carpi ulnaris tendon creating ulnar-sided pain. In more severe cases, the tendon sheath may be destabilized and patients experience snapping of the tendon as they rotate their forearm. Surgical tendon stabilization procedures may be considered for patients with instability. Carpi Ulnaris Instability Article.
When your wrist hurts after playing golf, pain symptoms vary from mild to severe. Nonoperative treatments are specific to the injury identified and options include rest, over-the-counter medications, splints/braces, and therapy. Operative treatments depend upon multiple considerations including the anatomic location of the injury. There are many different reasons to have pain or discomfort after playing golf. If you have any concerns, please contact your treating physician.
The decision regarding nonoperative versus operative treatment is complex and should be discussed with your treating physician. 
Outcomes after surgical treatments vary and risks and benefits should be discussed in detail with your treating physician. Nonoperative treatment also carries risks and benefits which should be discussed with your treating physician.
Disclaimer: Evaluation and treatment of sports injuries involve complex decision-making. This information is not intended to covey, substitute or supplant any medical advice. In order to establish a treating relationship, please schedule and complete your visits with a licensed physician.
Copyright 12/10/2021 Tanay Amin, MD
Do not copy, distribute, or publish this article. Please contact Precision Hand and Orthopedic Surgery PLLC with regards to any inquiries or corrections.